The Chibi-Dina Chronicles:
Chibi-Dina's Hypnoween II
I had so much fun with Chibi-Dina's Hypnoween last year that I decided to do another one this year! I don't usually like holiday-themed specials or stories, but Halloween stories are a bit of an exception… after all, a good horror-themed story can be enjoyed any time of the year. and Chibi-Dina's tendency to stumble into supernatural events and end up a hypnoslave lends itself very well to a Halloween themed story. 
Just like last year, this comic features cameos by characters belonging to people from my Patreon. I'll add a list over who's who at the end of the comic.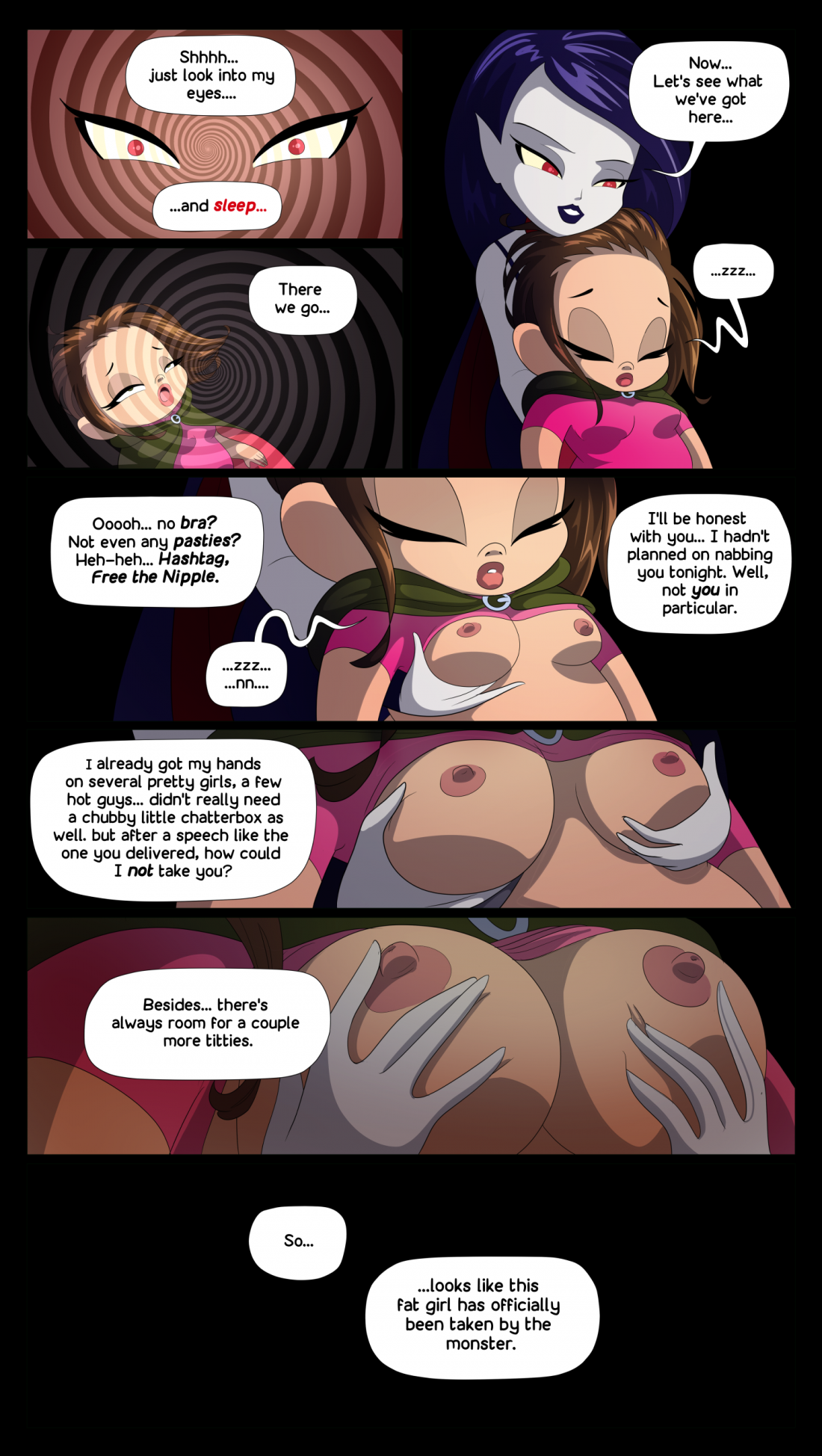 And here, as promised, the list of the hypnotized guests at the erotic Halloween party:
Redheaded "futa" woman being masturbated by Chibi-Dina: Ember Rouge (Nathan Eilisha Sharani).
Ember Rouge is an employee of SevenStars Incorporated, which I have done quite a bit of comic work for… I even have a page for those comics here on this very site, and Ember is a pretty frequent character in them. You might also remember that she played the role of Blinky in the previous Hypnoween comic.
Short fat girl sucking cock: Chibi-Dina (my character/self-insert)
If you don't know who this girl is… you're probably new to the site. Start here.
Blond Cowguy getting a blowjob by Chibi-Dina: Liam

(Impulse)


Liam is a "cowguy adventurer." I don't really know a whole lot more about him other than the fact that Impulse agreed to having Chibi-Dina suck his cock.
Lavender-haired girl pole dancing: Moxy (Useful Rooster)
Moxy is, in the words of her creator, "a hard working food service gal who gets into hypno shenanigans." Can't say fairer than that!
Brunette dancing and masturbating: Clara

(Impulse)


Clara is actually a character from the bronze age, and I've done a few drawings of her bronze-age self… but a modern-day version was also in the previous Hypnoween comic as Pac-Man/the player.
Black-haired girl dancing and groping the catgirl: July (twilight L)
July is one of the "Calendar Girls," twelve magical girls each named for a month of the year. (Well, eleven, really. since December quit.)  You can find twilight L's profiles of them all here.
Catgirl dancing wiih and being groped by July: Dawn Twilight Lord (twilight L) 
You probably know her as well; she's appeared in my comics so many times that she's even got her own entry on the character page. She also played Inky in the previous Hypnoween comic.
Tanned redhead girl humping a dildo: Lynessa Flamehair

(my character)


Lynessa is actually a slightly modified version of an old RP character of mine. She has showed up a few times on this site, and has an entry on the character page.
Grey-haired girl geting assfucked: Irina Krausser (Starbreaker)
The one party guest who is not owned by either me or one of my Patrons. I had an opening for an extra character and asked on the Solaris-verse Discord channel if anyone wanted to volunteer their character for a cameo at a hypnotized erotic Halloween party. A member named Starbreaker volunteered their character Irina and said I could "do what you want to my girl." So I decided to have her take it up the butt!
Black-haired guy fucking Irina: Chance (my character)
Chance is a friend of Lynessa, and they've encountered each other several times while travelling between dimensions.  Whether "Chance" is his first or last name is a mystery. He's also on the character page.
The Frankenstein's monster dude and the vampire lady: Mort and Tricia (my characters)
They were invented for this comic and named by Patron user David Rush, after I held an impromptu "Name the Frankenstein/vampire couple" contest. I'm envisioning them as a married couple, kind of like Herman and Lily Munster, but probably without the werewolf son. More details may or may not follow…