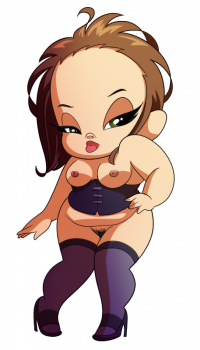 Let's not kid ourselves: This is the reason why this website even exists to begin with. Content and ideas, and of course, on this particular page, DRAWINGS that are too hot, too sexy, too ADULT for sites like Tumblr and DeviantArt. We're talking graphic sex and lots of fetishy material… most prominently hypnofetishy, but you'll find other kinks and fetishes here too… it's not always consensual and seldom completely vanilla.
Keep in mind, though, that it's all fantasy; no real person has been harmed or forced to do anything they don't want to. I trust we're all adult enough to tell the difference between fantasy and reality here.
Are the kids in bed and/or your boss too busy to notice what sort of sites you're browsing? Then let me show you a few things…
There are three categories to this gallery:

Hypno-Art is of course the largest category… hey, I've got this rep as a hypno artist.
General Sexiness is where you'll find all the adult art that ISN'T hypno-themed.
Story Illustrations are, well, illustrations I've done for other people's stories.