The Chibi-Dina Chronicles:
For a while, Chibi-Dina only appeared in one-panel and two-panel comics. Rather than give each one a page to itself, I decided to group them together on one page.
There are more one-shots coming down the line, but they all happen AFTER the very important events of the next comic.
FLAG-CHAN AND CHIBI-DINA
If you were around Tumblr during the Great Adult Purge of 2018, you'll recognize this situation. Flag-chan (created by Black-Wave) is the personification of the bots that sought out adult content for flagging and deletion… and yes, she sucks at actually identifying adult conte
nt.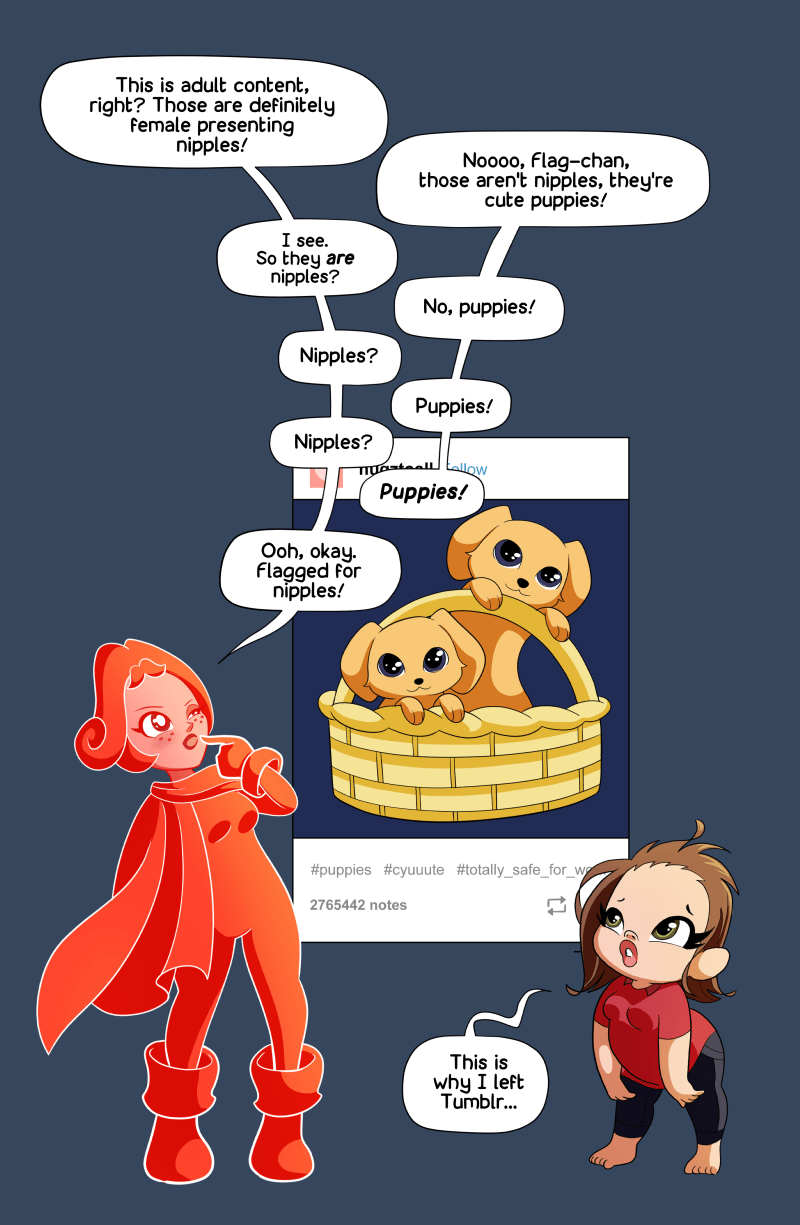 TRISHBOT HYPNOTIZED, NAKED AND PREGNANT
Back before her daughter was born. Trish seemed to have misremembered the term "barefoot and pregnant," so I tried to set her straight. I'm not sure just how much of my explanation actually reached her brain, though… she seemed pretty out of it.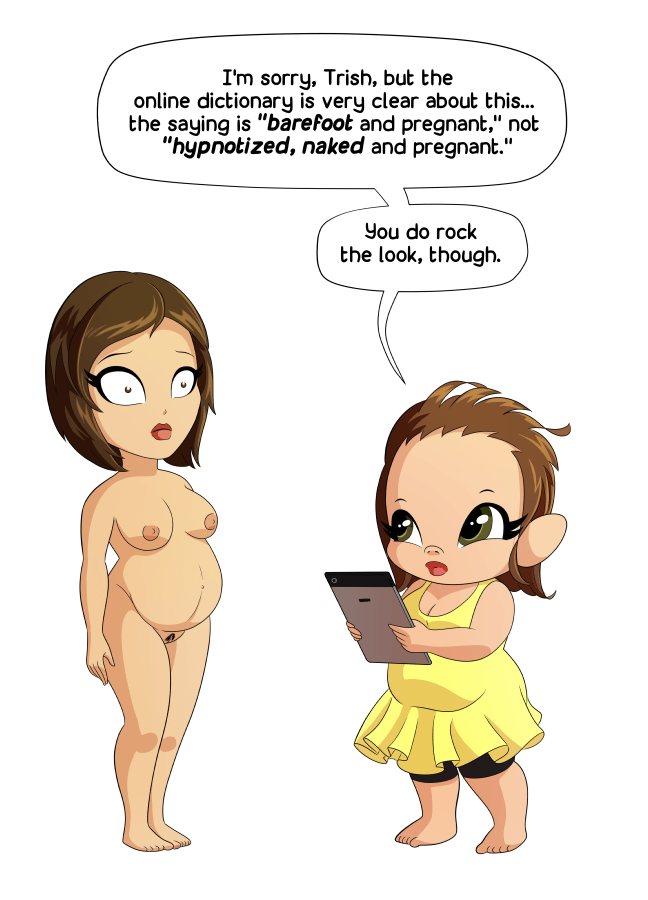 HYPNO-PARASOL
Turns out that twilight and I both dislike sunbathing… but for very different reasons. I'm Norwegian, so I actually like a little sun; I just hate sunbathing because it's so  IMMENSELY BORING. However, twilight has a more physical reason to hate sunbathing, In her own words: she burns easily, but never tans. So when this Patreon request came up, she wasn't particularly hard to ask.
SEMI-CREEPY JESTER GIRL STRIKES AGAIN
The Semi-Creepy Jester Girl has her own idea for how I could post more content… I don't agree.  ( Okay, I'm stretching the "One-panel" part a little here, but I still think it first best on this page.)  I'll tell you, there were a couple of hypno-manippers who got mad at me for this one… I noticed that I was mysteriously banned from a few DeviantArt accounts after I'd posted this.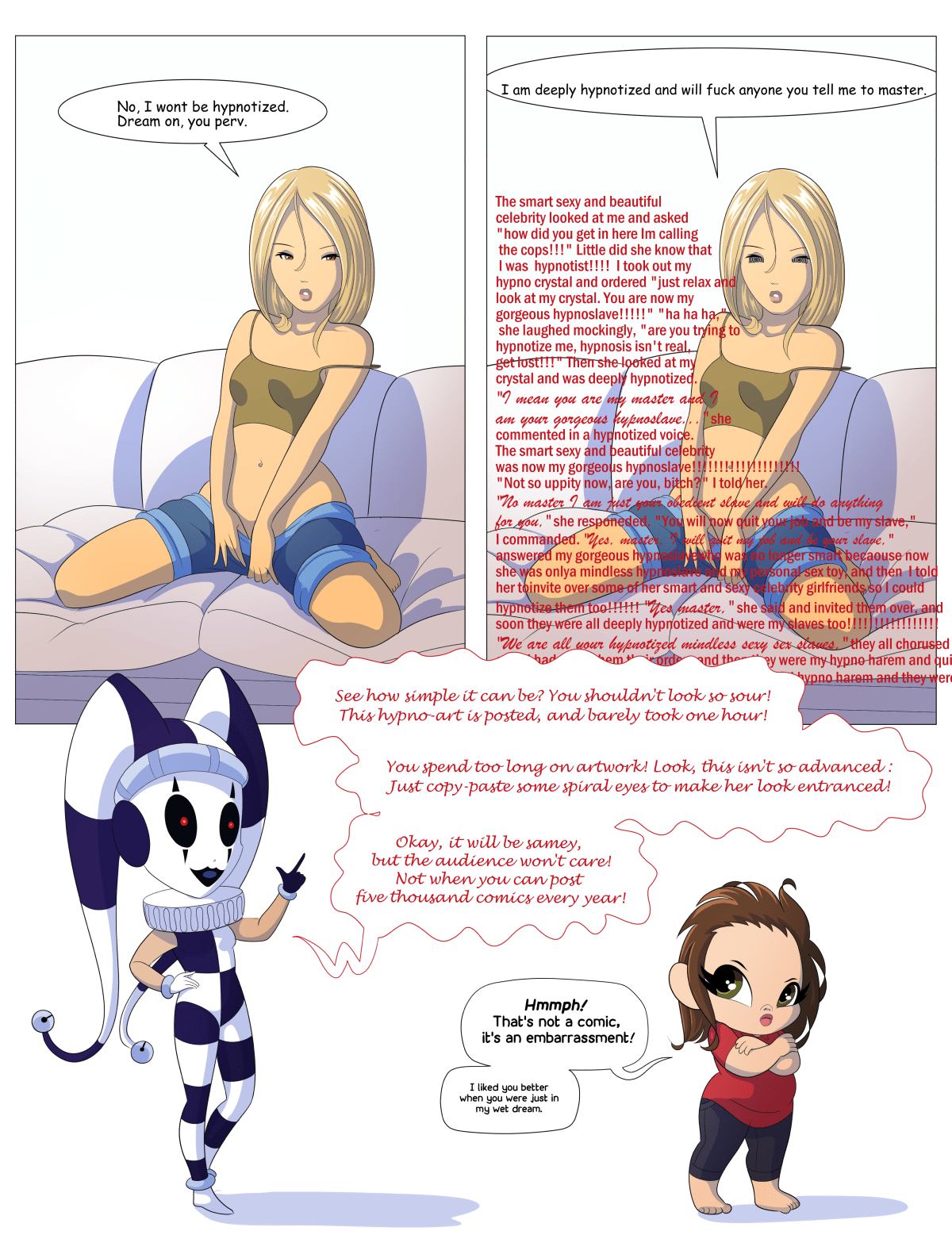 TITS OR TREAT
Commission for Halloween 2020!  There weren't a whole lot of trick-or-treaters this year, so the candy manufacturers apparently thought of something else… why we had to bare our boobs is a little unclear. There was some speculation that "Tits or treat" was actually a typo, but I don't know…
That's Ember as a ponygirl, Gemna as a Kirlia, our old friend twilight the catgirl as a member of Organization XIII (apparently she was planning on dressing up as Xion but got hypnotized before she could dye her hair or put on a wig), and me as a witch.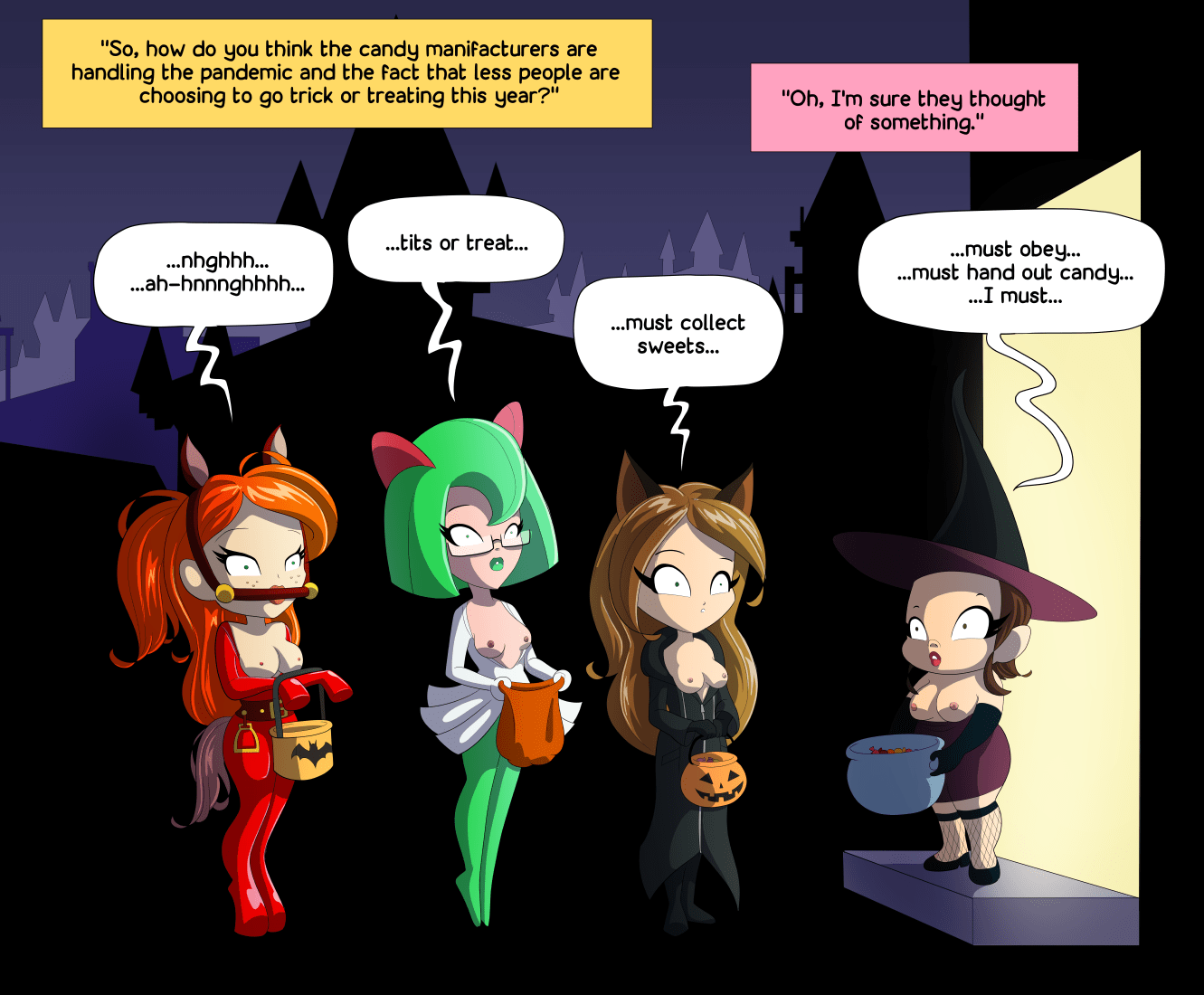 TITS OR TREAT, PART 2
A picture done for a Patreon Royal. After the hypnotic Halloween, it turned out that the entire "tits or treat" situation wasn't completely over with… 
That's Marinette Dupain-Cheng, AKA the Miraculous Ladybug, or at least an alternate and slightly older version of her, dressed up as a Jiangshi.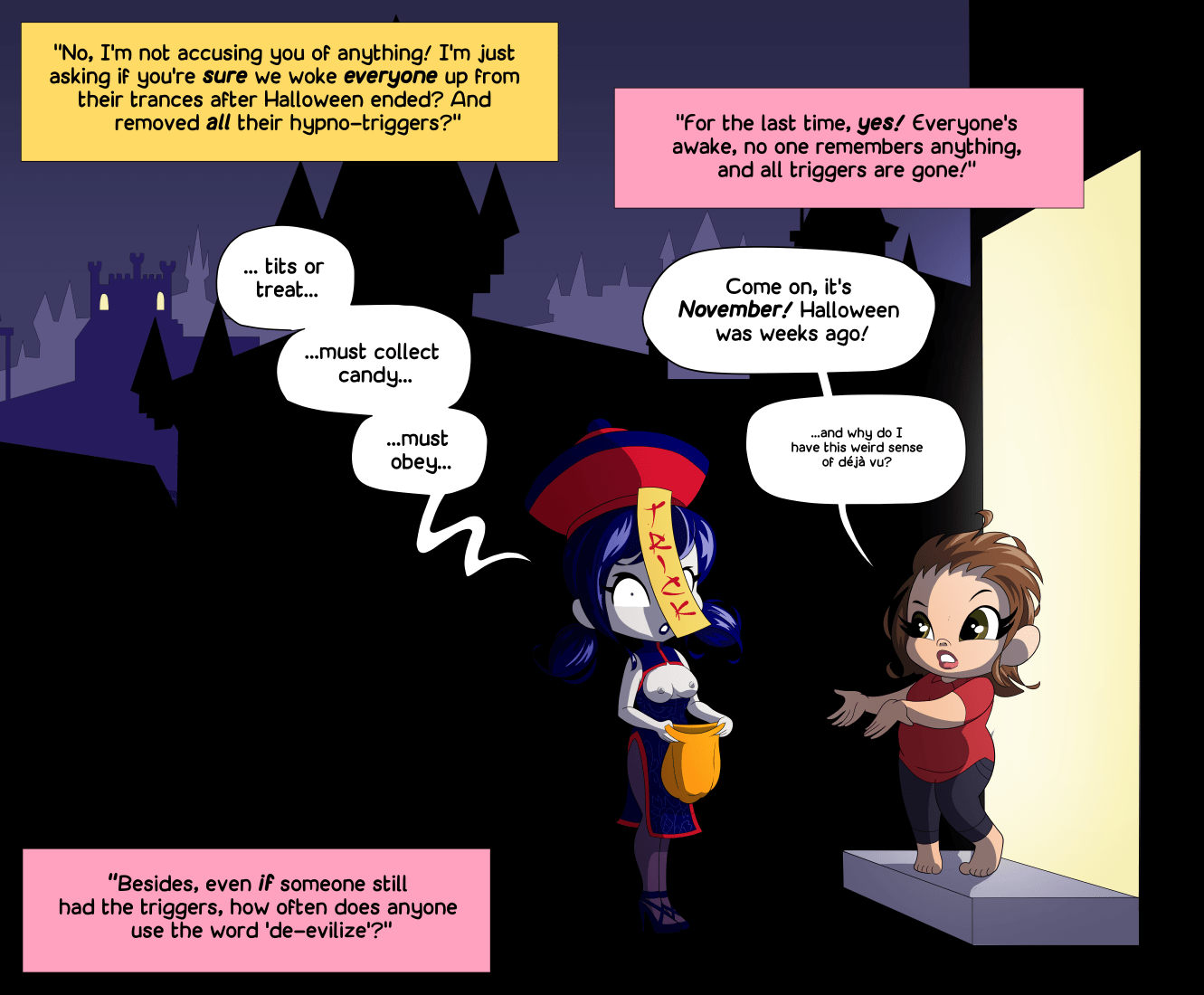 HYPNOTIZED SUPER-SOLDIERS
This was done as a Patreon request. I'm not sure if this was what they had in mind… I know it wasn't what Candykate had in mind!
ANOTHER RETURN OF THE SEMI-CREEPY JESTER GIRL
This was a Patreon Royal reward. Sometimes people need to be careful when saying things like "just draw what's on your mind…"